I really love tiny homes, earth ship homes, shipping container homes, bus homes...really any creative, clean, and functional space someone has created I seem to appreciate it. But my favorite type of housing would have to be the yurt. We are a family of six and would like to be debt free sooner than the dreaded thirty years of our mortgage is up. I know of two families that have four or more children living, quite happily, in a bus. They have created some beautiful spaces, but I don't think we could handle such a small space. So, we keep coming back to the yurt. And honestly, I wonder why more people (you know that crazy group of us...) don't go with the yurt.
The only draw back, I can see for others, is the fact they they are a little pricey. You have to purchase the yurt kit and then on top of that you have to build the deck for it to sit on and then finishing the inside with plumbing and power. But one of the many benefits of a yurt is the amount of space you get, and for a family that is a big deal.
Where to Buy a Yurt:
There are two companies I really like and we will choose between these two when it comes time to purchase our yurt.
Pacific Yurts
and
Colorado Yurt
. These companies get great reviews and one thing that keeps popping up online is the great customer service from both companies.
Yurts are pretty versatile, you can build it on top of a garage, you can tack on another yurt down the road, you can add more insulation, if you can imagine it you can do it.
I also want to experience living in the round. I might sound like a hippie, I don't mean too, but people say there is something about living in the round.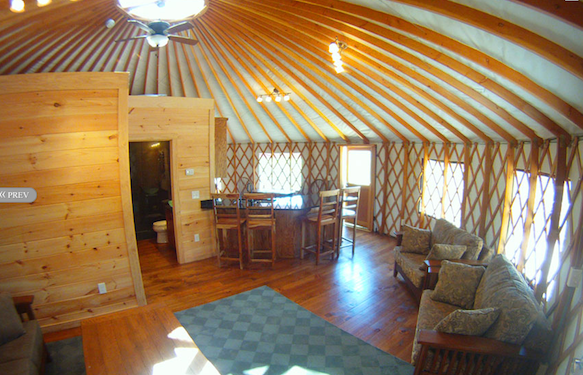 With help a yurt can be set up in a day.
Videos of Yurt Tours:
North Carolina Yurt Home
Sean and Mollie's Yurt Tour
Fairbanks Alaska Yurt Tour
18 Year Old Yurt Tour
Mother and Son Live in Yurt (Not exactly a tour, more talking than video of the yurt)
Family of Five Living in a 20ft yurt (the husband built this yurt!!)

Hope you enjoyed a little info on yurts, and thanks for putting up with my ramblings!